I didn't keep up with the seasons hey? Wow.. Summer is busy! Instead I'm going to start the challenges Here we go!
September 1st Challenge. Take a photo of your "work area". For me it's a new-to-me corner desk. I love my new desk. My father-in-law built it for my husband while we were in university. It fit perfectly behind the school desks into the corner so we had lots of space there. Eventually it went into our first house, then to my parents house where after being in storage a bit my brother took it over and used it at his university housing. And eventually it landed back at my parents house. Now it's finally at our home. We have recently began renting out the whole house (July) and have this beautiful yellow mud/back room. It's wonderful. And so that I can watch the kids outside and still be able to use my computer I've now set it up in the corner. With no notice (ie no time to clean it up) I took a picture: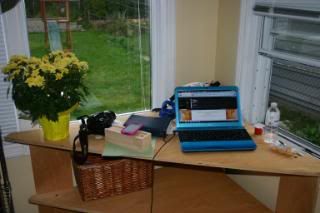 Dirty hey? And crazy busy but it works. To "explain" my picture: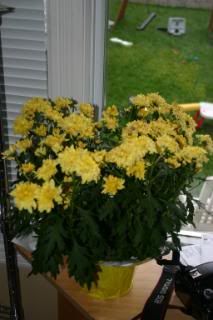 These flowers were given to me from a friend. We had them over for dinner once and they brought over these flowers. While they are wilting a bit I'm excited to move them outside (not today, it's raining) and plant them in my garden soon.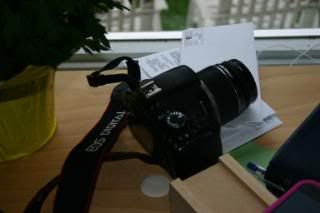 My camera! We just came back from a picnic with the kids and I got a few new photos of the kids and of the school playground. I always seem to have it close at hand in case I need to snag a photo quickly!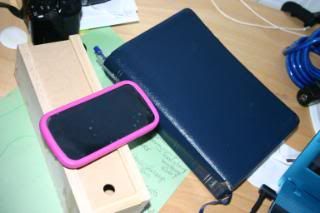 This picture kinda does a bit of everything. There is my cell phone (which is generally ALWAYS on me), my son's pencil box (which he brought over to me this morning), under that is my to-do list, as well as my Bible.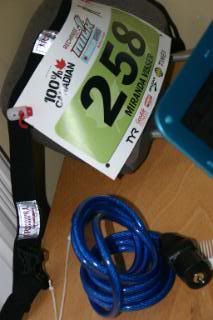 Behind my computer is my bike lock, and my tri number! I need to figure out how to put some pictures on my wall but for now that's where it sits!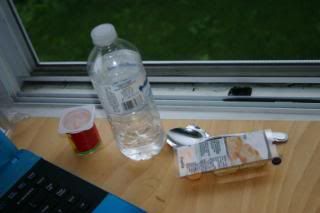 Lunch leftovers. Like I said our picnic got canceled so I had my yogurt, water and cheese and crackers at my desk instead.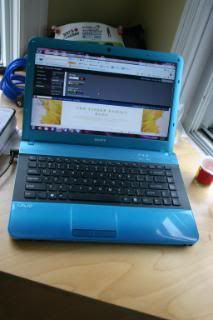 My computer! An important part. And see what I'm working on now? My blog! I have 2 blogs. This one (my photos one) and the other one (my family one). I'm working on updating the family blog to it's new "Fall theme".
I'm excited for tomorrows challenge:
"September 2nd's Challenge:
Today you are going to be challenged to take a picture of something you do every single day. This photo is going to resemble something that you do/use. This could be your coffee maker or your shoes. Get creative and enjoy!"