September 16th Challenge:
Today take a picture of your "mode of transportation". How do you get to and from things? If it's your car, get a nice picture of it (if possible). Or a bike? Or maybe it's your own 2 feet. Whatever it is make sure you get a photo of it!
Lately it has been my own 2 feet! Excuse the fact that I need to paint my nails again. I could go for a mani/pedi anytime now :)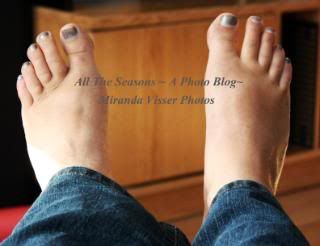 September 17th Challenge:
Today is my sister-in-laws birthday (Happy Birthday sweety!). So in honor of her, today, take a picture of someone you love. I can't snag her photo since they are so far away but try to get one of someone you love in your life.